RECEIVE Conference RESCHEDULED

Friday, September 27, 2019 at 7:00 PM
CONFERENCE IS BEING RESCHEDULED FOR 2020! MORE DETAILS COMING!
Friday - Saturday Sep 27-28
All of the speakers at this conference have been healed of incurable diseases. They are all ministering the heart of God around the world and sharing the good news about healing and wholeness that belongs to us. Registration is free (ON THE BOTTOM OF THIS PAGE), but a requirement for this conference. Men and women are welcome. SEATING IS VERY LIMITED!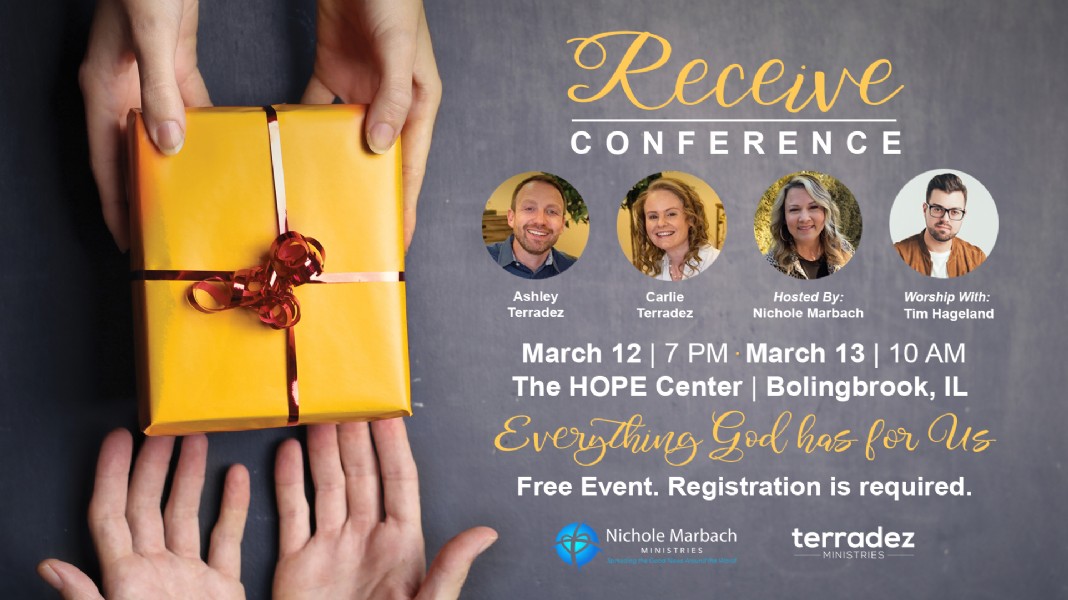 About the speakers:
Carlie Terradez – Terradez Ministries
In 2004 Carlie attended a small Bible Study where she discovered that God not only desired but also provided, for her to live in physical health. After gaining this revelation, Carlie received her supernatural physical healing from life-threatening Epilepsy. Overnight, Carlie was free from over a dozen prescription medications and a restricted lifestyle.
During this time, Ashley and Carlie's daughter, Hannah, was suffering from a rare auto-immune disease called Eosinophilic Enteropathy. Doctors tried several extreme methods to try and overcome her disease, including surgically inserting a feeding tube. About this time, Ashley and Carlie received a free teaching tape from Andrew Wommack Ministries and began to establish their faith and increase in the revelation of God's grace. For the first time, they understood that God didn't randomly move in people's lives; He had already provided salvation, healing, and provision for everyone through Jesus Christ. However, the methods to feed Hannah failed and doctors diagnosed her as having only weeks to live. The next day Ashley and Carlie removed Hannah from the hospital and traveled to an Andrew Wommack Ministries conference to find someone who would agree with them in faith. On March 18, 2006, they were able to have Andrew Wommack pray for Hannah, and she was supernaturally healed. You can watch Hannah's healing journey as it was captured by Andrew Wommack Ministries.
In 2008, Ashley and Carlie graduated from Charis Bible College in the United Kingdom. Shortly after, they followed God's call to move to the United States with all three of their children. Although serving the Lord has always been a focal point of Ashley and Carlie's marriage, it was during this time that God brought them to a new level of allowing God to change every area of their lives. They began to greatly increase in their revelation and experience of God's provision for healing and financial provision. This is when Ashley's special gift and anointing in finances came to light.
This growth propelled them to serve in a variety of ministry positions until they were ordained by Andrew Wommack in 2011. Shortly after, Terradez Ministries was launched—with a mandate to empower believers in the promises of God.
In 2017 Ashley was released to begin working full-time for Terradez Ministries and Carlie joined him shortly after.
Today, Ashley and Carlie lead Terradez Ministries as a power-packed duo, exercising Luke 4:18 by proclaiming and providing an example of God's promises and provision through Christ Jesus. Because of God working in and through them, they help many people receive physical healing, live in financial prosperity, and grow more intimate with God. For more info, visit www.terradezministries.com
Audrey Mack – Go Tell Ministries
Audrey miraculously met the Lord and was saved in Cannes France in 1985, and in 1986 she followed His direction to leave France to go to bible school in Tulsa OK. Audrey is a graduate of Rhema Bible Training Center and Victory World Mission Center and has been in the ministry since 1988. Her first love and desire is to know God, to reflect Him and serve Him. Her passion for God and her sensitivity to Holy Spirit enabled her to minister and help many across 5 continents.
Audrey has been healed of bone cancer in 1999, and has a burning desire to bring the message of faith, grace and healing to this generation. Her joy is to connect people with God's heart, teaching them to walk with Holy Spirit so that with His help they may become fruitful and fulfill their God-given destiny..
Audrey married her husband Frederick in 1999. Frederick is a graduate of Charis Bible College but also a successful general contractor who sees his business as an avenue to serve and share his faith. Together they make a good team. Audrey has grace to go to the nations, and Fred has grace to let her go. Frederick and Audrey reside in Jacksonville FL. For more info, visit www.gotellministry.org.
Nichole Marbach – Nichole Marbach Ministries
Nichole Marbach resides in Illinois with her husband, youngest son, and three Shelties. She is a graduate of Charis Bible College Chicago and a Certified Joy Restoration Coach© through the Professional Christian Coaching and Counseling Academy, an author, speaker, teacher who feels called to spread the extreme love and grace of God through the finished work of Jesus Christ around the world.
Nichole's powerful testimony of overcoming bipolar disorder, PTSD, suicide attempts, panic attacks, alcoholism, self-injury, and other addictions, has given her a passion to minister to hurting people. She loves to teach people that Jesus paid the price for their healing and encourage them to never give up hope on the promises of God which are "Yes and Amen!" in Christ.
Nichole has ministered throughout the U.S. and internationally as a conference speaker and teacher. She has also ministered at recovery groups, prisons, business settings, churches, and more. Nichole has appeared on several Christian television and radio programs. Her miraculous "Healing Journey" has aired on Andrew Wommack's The Gospel Truth TV program and is currently a healing testimony on his website, giving hope to many people around the world. Nichole was also recently ordained as a minister by Andrew Wommack and Barry Bennet at Charis Bible College in Woodland Park, Colorado.
Julieann Hartman
Southern California native Julieann Hartman is first and foremost a lover of Jesus Christ, a wife to her amazing husband of 27 years Butch Hartman, mother of two exceptionally gifted daughters - Carly & Sophia. After 7 years of dealing with the devastating effects of Fibromyalgia and other "conditions", She was healed and set free from of all symptoms in 2014. Since then it has become her life's mission to set the captives free and spread the healing message of Jesus Christ all over the world. Julieann and Butch have worked in the entertainment industry for over 30+ years and are on a mission to do whatever it takes to empower people in their callings and giftings. They have a weekly bible study in Calabasas, Ca. that focuses on healing and empowering the body of Christ to live out the promises of God. You can watch Julieann and Butch Wednesday mornings at 9am PST on Julieann's Facebook page and you can listen to them on their weekly radio show called "VISION: POSSIBLE!" Which airs weekly at 12:30PST on KDAR, 98.3fm The Word. You can listen through the iHeartRadio app. Julieann & Butch have also co-authored the book "VISION: POSSIBLE!" whose theme is "the empowerment of people bringing their visions to life". You can purchase the book on Amazon. www.visionpossibleconference.com.
Racquel Hudson
Racquel Hudson is a rising minister of the Gospel and Psalmist in Southern California. She and her husband, Herman, of fourteen years are recent graduates of Charis Bible College, Woodland Park, CO, where they deepened their revelation of the message of God's abundant grace.
Racquel is a living demonstration of the healing power of God, having overcome a host of the enemies attempts upon her life. She has a tremendous healing testimony that God is using to speak faith in the lives of many. Racquel ministers in song, traveling as a psalmist with Andrew Wommack Ministries and ministering at other events.
Niki Weller Ministries
Niki suffered for many years from Fibromyalgia and extreme Environmental Illness. Eighteen years ago she received God's complete and miraculous healing from every symptom! The understanding that all we need is accomplished on the Cross with Jesus and His never-ending unstoppable love for us set her free!
Thousands of people have been ministered to by her family's story of freedom featured on Andrew Wommack's Healing Journeys. God has continued to give Niki revelations about how to walk fully, not just in her healing, but also her originally designed pupose. It is Niki's passion to share about the JOY found in walking personally in your own love relationship with Jesus.
You can find Niki's blog at nikiwellerministries.com.